Ideas for blogging
A large audience can benefit greatly from your knowledge, opinions, and experience when you blog.
Blogging can be a fulfilling and rewarding activity, whether you're writing about your personal experiences, providing advice and tips, or imparting your knowledge on a particular subject.
The topic cluster map can therefore be a great tool for structuring your ideas and building a solid foundation for your blog if you're planning to start one.
In this article, you are going to find several ideas for blogging and tips on how to create a successful blog.
Tips for Starting a successful blog
Starting a successful blog can be an enjoyable and exciting journey, but it's important to approach it with a strategic plan in mind.
Here are some guidelines for developing a successful blog:
Finding a Niche
Choose a topic in which you are knowledgeable and passionate.
If you choose a niche in which you genuinely have an interest, the process of creating content will be much more enjoyable.
Making sure you have a thorough understanding of the niche you have chosen is also essential for producing high-quality content.
Choosing a niche for your blog will assist it in standing out and succeeding. Here are a few ideas:.
Discover your passions and interests. Your passions and interests will be the source of inspiration for your blog, so choose a topic that you'll enjoy writing about.
Examine popular and profitable markets.
After you've compiled a list of potential niches, conduct some research to see which ones are popular and likely to be profitable.
Examine the amount of interaction and traffic received by blogs in related industries.
Take into account your target audience and the topics they are most likely to be interested in reading about.
You should pare down your list.
Choose the markets from your list of potential niches in which you feel most at ease writing and believe you can succeed.
Pick a niche that advances your blog's goals after carefully considering them.
Always choose a topic about which you are enthusiastic.
If you don't have a strong interest in the subject, it will be difficult to maintain the motivation and dedication required to maintain your blog. Select a topic that interests you and is familiar to you.
As a result, you'll be able to write articles that readers will want to read and keep reading.
Choose your target audience.
It's crucial to consider your target audience when developing the content and marketing strategy for your blog.
Create a calendar of content. Planning and organizing your content creation in advance will make it more likely that you'll regularly publish new content.
Social media can be used to promote your blog. Use these platforms to promote your blog and bring in new readers.
Engage in social media conversations with your followers and share frequently updated blog posts to increase the number of visitors to your website.
Spend money on expert branding and design.
Owning a blog that is attractive and well-designed will help your brand expand and become stronger.
Optional choices include using a premium theme or working with a web designer.
Don't lose your cool.
Building a successful blog takes effort and time. If you don't start seeing results right away, have patience because it takes time to build a following and a reputation in your niche.
Choosing a Blogging Platform
A blogging platform can be chosen from a variety of options. There are other platforms to take into account, even though Squarespace and WordPress are two of the most well-liked.
Research is essential, as is weighing the advantages and disadvantages of each platform before making a choice.
One of the most crucial things to take into account is the degree of customization and flexibility offered by each platform.
One well-known example is WordPress, which is renowned for its extensive customizability options and capacity to work with a wide variety of plugins and add-ons.
Anyone who wants to create a more intricate and feature-rich blog will find this useful.
However, not everyone may require this level of customization, and it might be expensive.
Contrarily, Squarespace is well known for its simplicity and user-friendly interface.
It's a fantastic option for those who are new to blogging and value simplicity and clarity.
Squarespace might not offer as much customization as WordPress, so take your unique requirements and objectives into account before choosing.
When choosing a blogging platform, it's crucial to take pricing, support, and security into account.
To choose the platform that's right for you, it's a good idea to read reviews and consult other bloggers.
The best platform will ultimately depend on your unique needs and objectives, so do your research and choose the option that is most appropriate for you.
Generating Ideas for Blogging
Starting a blog can be an exciting and rewarding experience, but it can also be overwhelming, especially when it comes to coming up with ideas for blogging.
To help you get started, here are some blog post concepts:.
Find your interests and passions. What topics do you enjoy reading or discussing the most? These make great starting points for your blog posts.
Look into lucrative niches that are in demand. See if there are any gaps in the topics that other prominent bloggers in your industry are covering or places where you can add your own distinctive perspective.
Utilize tools for keyword research. You can use these to find out what people are searching for and what interests them.
Keeping a journal. No matter whether they have anything to do with your blog, make note of any ideas that occur to you throughout the day. When one idea will lead to another is impossible to predict.
Avoid getting stuck in the writing process. Take a break and work on something else if you're having trouble thinking of ideas. You may occasionally generate fresh ideas by stepping away from the computer and clearing your head.
The secret to successful blogging, keep in mind, is consistency.
Try to post frequently, and don't be afraid to experiment with various content types to see what resonates with your audience.
You'll have no trouble thinking of fantastic blog ideas if you follow these tips.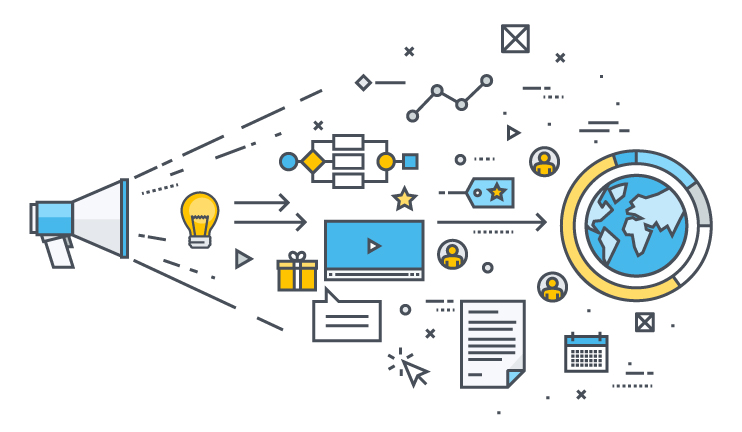 Planning and Organizing Your Content
One of the most important aspects of starting a blog is coming up with blog post ideas.
Though it can be difficult to generate ideas, there are several techniques you can use to improve your creativity.
Keyword research and journaling are examples of these techniques.
It is critical to developing strategies for avoiding writer's block and staying motivated.
The final step is to plan and organize your content.
This process includes setting deadlines, creating a content calendar, and brainstorming blog post ideas.
You'll be able to stay on track and consistently produce high-quality blog posts if you spend time planning and organizing your content.
An effective blog requires time, effort, and planning to be created.
However, if you approach blogging correctly, you can create a blog that is both interesting and profitable.
You'll be well on your way to starting a successful blog if you choose the right platform, decide on a niche, generate post ideas, plan and organize your content, and select an appropriate blogging platform.
Writing and Editing Your Posts
Once you've decided on your niche and platform, it's time to start coming up with blog post ideas.
You can generate ideas using a variety of methods, including journaling, keyword research, and other methods.
By taking breaks, getting feedback, and discovering new sources of inspiration, you can also stay motivated and fend off writer's block.
Once you have your ideas, it's time to plan and organize your content.
This involves planning out your blog post ideas, creating a content calendar, and establishing deadlines.
By doing so, you'll be able to maintain your course and make sure your content is organized and consistent.
It's time to begin writing and editing your posts at last.
The best practices for writing clear, concise content are to break it up with headings and subheadings, use images and other media to support your message, and use headings and subheadings to break up your content.
Additionally, it's crucial to work on honing your writing abilities and to diligently edit and proofread for precision and clarity.
You'll be well on your way to developing an active audience and a thriving online presence by paying attention to this advice for starting a successful blog.
Promoting Your Blog
You can use a few crucial tactics to promote your blog and draw in as many readers as you can.
To start, social media is an effective tool for disseminating content and interacting with readers.
To engage your audience, share your posts on social media sites like Twitter, Facebook, and Instagram.
You can advertise your blog by creating a mailing list and using email marketing.
This enables you to interact with readers personally and share your most recent content with them. Include a sign-up form for email on your blog to start growing your subscriber list.
Don't forget about SEO (search engine optimization), either.
Utilizing SEO strategies can raise the visibility of your blog in search engine results, attracting more readers.
This entails properly using header tags, including relevant keywords in post titles and tags, and adding alt text to images.
By putting these tactics into practice and continuing to develop and advertise your blog, you can gradually draw in a larger audience and increase your readership.
Monetizing Your Blog
Monetizing your blog is one of the most important parts of the process if you want to make a business out of it.
There are numerous ways to make money from your blog, such as:.
Advertising: By including advertisements on your blog, you can get paid when readers click on them or use them to make purchases.
Making sponsored content for companies can earn you money as well. This might take the shape of sponsored blog posts, social media updates, or videos.
Products: You can sell goods or services on your blog if you have something that your readers would find useful. A physical good, a digital good, or a service can all be examples of this.
Affiliate marketing: By promoting goods or services on your blog and getting paid when readers use your affiliate link to make a purchase, you can make money.
Events that are sponsored: If you have a sizable fan base, you might be able to earn money by hosting events that are sponsored or by giving speeches at conventions or workshops.
To effectively monetize your blog, you must first investigate the various avenues open to you and ascertain which ones are most appropriate for your blog and readership.
You should be open and honest about any sponsored content or partnerships if you want to keep your readers' trust. time.
Conclusion
And finally, a successful blog requires a combination of enthusiasm, forethought, and diligence to create and maintain.
By deciding on a niche, picking the best platform, organizing your content, brainstorming ideas, writing and editing your posts, promoting your blog, and making money off of your efforts, you can turn your blog into a successful and lucrative business.
As your blog becomes more popular, don't lose sight of your objectives and keep learning and developing.
Your ideas for blogging can become a successful blog with effort and persistence.
Video – Ideas for Blogging
You can watch the video clip to see a detailed explanation of each pointer.
To comprehend the technical facets of blogging is the second component. Conducting keyword research, addressing the key areas of competition, and engaging in some fundamental on-page SEO techniques should put you on the right track.
To find out more about those recommendations, watch the video.
Making friends is the last container. You'll discover the importance of starting with an email list, how to network with other bloggers in your niche, and how to market your content online.
Timestamps:.
1:13 Focus on a certain part of your specific niche.
2:03 Produce web content that deserves referencing.
4:10 Make your article simple to check out.
5:09 Write click-worthy headings that aren't clickbait.
5:47 Write intros using the APP formula.
6:45 Create response loops.
7:48 Cover subjects people are looking for.
8:47 Cover your competitors' best subjects.
9:20 Do some basic on-page SEO.
10:09 Connect with various other bloggers you admire in your area.
11:22 Develop an e-mail listing from the first day.
12:00 Advertise your material in online neighbourhoods.
#bloggingtips #blogging #blog. #ideasforblogging
Resources:
Download our free video marketing guide.
Comment, Let Me Know What You Think, And Implement!
Enjoyed the article? Comment below, tell me what you thought, and also tell me what else you'd like to know about? I always try to write on topics that my readers want to hear.
ideas for blogging
About Authors